The Impact of the Internet on Management Education:
What the Research Shows
Note: This article was originally published in The Technology Source (http://ts.mivu.org/) as: Charles Morrissey "The Impact of the Internet on Management Education:
What the Research Shows" The Technology Source, June 1998. Available online at http://ts.mivu.org/default.asp?show=article&id=1034. The article is reprinted here with permission of the publisher.
The rapid growth of end-user computing, low-cost communications, and network software now exert a powerful influence on how businesses organize and communicate. The trend toward lean organizations–empowered, multi-function work teams–and their need to communicate information quickly "any time, any place" embodies the emergence of geographically dispersed electronic groups. This new pattern of organizational structure and the parallel developments of group information technologies converge into a new working environment called the networked society.
These information-based organization shifts are enabled by collaborative technology popularly described as groupware. However, although groupware may lead to profound changes in organizational design and communication, little empirical research exists on the impact of the changes, particularly their role in enhancing decision quality.
Ironically management schools show little evidence of recognizing how this new technology can have a similar effect on enhancing the management education process. Despite the growing investment in computer hardware and software in business schools (Frand, 1997; Green, 1997), little empirical research has been done on the utilization and effect of groupware on student learning or on its implications for opportunities in areas such as distance education. This failure of management education programs to recognize the importance of the technological opportunity both to enhance the learning process, and to simultaneously expose students to the implications of computer networks in areas such as business process redesign, reemphasizes the continuing criticism that business school curricula fail to adapt to the rapidly changing workplace (Albrecht, 1984; Chiat, 1985; Porter & McKibbin, 1988).
This article will summarize the research to date in the area of the application these technologies to the management education process and their implications for the future of business schools.
The Impact of the Internet on Organizations
The Internet continues to broaden its impact on all phases of society. It ushered in a new era in the world's continuing social evolution now described as an "information society" characterized by the emergence of the "knowledge worker" (Drucker, 1989). Now access to the Internet is almost commonplace, expanding its audience from the thousands of original scientific research users in the 1970s to the millions of current users encompassing almost all facets of society. Computer network technology also provides the basis for new organizational forms to respond to this competitive environment. These transformations in structure are reflected particularly in business process redesign (Davenport, 1993) and in reengineering (Nolan & Croson, 1995). These new patterns of organizational alignment and communication are enhanced by the economics and ease of use of these network tools. For example, teams composed of widely dispersed members with "any time, any place" access to each other, to suppliers, and to data bases represent a growing organizational form (Bock & Applegate, 1995; Guzzo, 1995; Mankin, et al., 1996). The specific role of IT in this new form is described by Navarro (1994) as team information architecture.
This network era is also emerging at a time in which American industry faces major disruptions in traditional manufacturing, marketing, and distribution patterns. Driven by a fiercely competitive global market, American management is constantly challenged to redesign its organizations to adapt quickly to this new competitive environment. Complete industry structures such as entertainment, financial services, health care, and publishing are being transformed as they align their organizations to take advantage of the continuous breakthroughs in network technology. These shifts are particularly evident today in the emergence of "Internet enabled" distribution channels described as "electronic commerce."
Research on Collaborative Technology in Management Education
The Internet provides low cost, easy to use, collaborative technology similar to that used in the "electronic meeting" environments used in the research summarized in the chart below. These studies all had a consistent design in that management students were given traditional business school assignments. For example, written analyses of case studies are widely used by management faculty as tools for teaching students to deal with issue-oriented, unstructured, or semi-structured situations. The classic teaching approach is to assign cases to small study groups tasked to develop a solution, prepare a written case report, and present findings to the class. These groups meet periodically. Students who work full-time have difficulty meeting face-to-face because of time and geographic constraints. Five of the six studies used control groups. Outcomes (all of which were based on written documents) were measured in both performance and attitudes toward the process.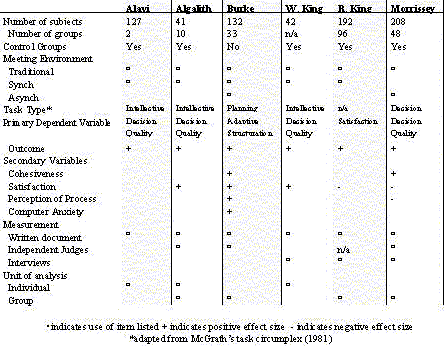 Primary differences were found in the unit of analysis. Three of the studies focused on individuals and four centered on groups. The critical outcome of the studies was the consistency of the improved performance of the electronic meeting students over the traditional face-to-face students in decision quality tasks. This outcome is consistent with the meta-analyses of similar studies on other populations.
Previous research on the use of groupware in business education was limited primarily to examining face-to-face (synchronous) interactions in specially designed facilities. Little research focused on the burgeoning growth of groupware in the "any time, any place" (asynchronous) environment. This environment is the one in which an extensive population of part-time graduate management education students are enrolled in MBA, certificate, and corporate management development programs. Unlike the numerous face-to-face interaction opportunities available to full time MBA students, these students tend to be subject to long intervals between class meetings, because they are geographically dispersed.
The Study
In 1995 I designed and implemented a study to extend this previous research to contribute to an understanding of the effect of an asynchronous meeting environment in business schools. I used Harvard Business School case studies as decision tasks since they represent universal content in management education programs. (Over 5 million cases were used in 1997.) The experiment was run involving 208 Executive MBA students, approximately half with groupware support for case studies and half without. Students were asked to solve a Harvard Business School case that was available both electronically and in paper form. Students with groupware were able to meet electronically in an "any time, any place" mode and were able to use the groupware to write their report. Results showed that case study groups with groupware significantly outperformed traditional face-to-face groups. The strength of this difference was supported further by a high degree of inter-rater reliability, in that both judges showed consistency in their grading of the differences between the two groups. This result was consistent with previous research that measured the impact of group support systems on decision quality in management education environments using "same time, same place" technology. Group attitudes, including cohesion and satisfaction with the process and outcomes, were also consistent, in that electronic meeting groups tend to score lower than traditional groups. These outcomes in decision quality and attitudes are also consistent with those measuring the same variables in non-management education contexts.
Why Does Groupware Appear to Enhance Decision Quality?
Interviews gave some insight into the answer to the question above. Content analysis showed a consistent "task focus," as students discussed their experience. Students also felt that individual assignments within the group were clearer and participation in preparation of the decision, a written document, was greater. One student captured this new environment with the observation, "No one ever misses an electronic meeting." Students also observed that the time spent organizing and commuting to face-to-face meetings was eliminated allowing more time for the task. Students also cited document management tools as resources by storing content, which eliminates the process losses typical of face-to-face meetings (Steiner, 1972).
Summary
Clearly the few studies on the effect of groupware on management education calls for more extensive research. In addition, a number of rapidly emerging applications on the Internet may have further impact on enhancing management education:
Collaborative telelearning (Alavi, 1995 & 1997) that employs video groupware;
Online document retrieval to augment information needs in effective decision making;
Virtual lectures stored as sound or video for tutorial assistance or guest lectures;
Online attendance at conferences.
This article attempts to contribute to a better understanding of how groupware–now an integral part of the Internet–impacts the management education process. Accelerated by the availability of powerful search engines that provide intuitive interfaces and links to data bases, common interest discussion groups, and electronic journals, these new tools are broadening computer literacy and lowering traditional technological barriers to implementing IT in traditional organizational settings. Organizational structures and processes are gradually adapting to "any time, any place" electronic meeting environments, thereby challenging the traditional patterns of hierarchical structures in an attempt to accelerate decision making across geographic and organizational boundaries.
It is critical to the profession that business schools and faculty continue to explore the opportunity to enhance their programs with these new technologies.
References
Alavi, M. (June, 1995). Using IT to reengineer business education: An exploratory investigation of collaborative telelearning. MIS Quarterly 18.
Alavi, M. (December, 1997). Using information technology to add value to management education. Academy of Management Journal 21.
Albrecht, P. (1984). Opportunity and impediment in graduate program innovation. In New directions for higher education, San Francisco: Jossey-Bass.
Bock, G. & Applegate, L. M. (1995). Technology for teams [HBS note, 9-196-008]. Harvard Business School Publishing, Boston.
Chiat, E., (1985). Business schools and their critics. California Management Review 27, 3.
Drucker, P. (1989). The new realities. New York: Harper and Row.
Frand, J. L., (1997). Eleventh annual UCLA Business School survey: Use of learning technologies in business education. Los Angeles: UCLA.
Green, K. C. (1997). Information technology moves slowly into the classroom. The Technology, Teaching and Scholarship Project [newsletter]. USC, School of Education, Los Angeles.
Guzzo, R. A. & Salas, E. (1995). Team effectiveness and decision-making in organizations. San Francisco: Jossey-Bass.
Mankin, D.; Cohen,C. & Bikson, T. (1996). Teams and technology. Boston: HBS Press.
Navarro, J. J. (1994). Computer supported self-managing teams. Journal of Organizational Computing 4 (3), 317-342.
Nolan, R. L. & Croson, D. C. (1995). Creative destruction. Boston: HBS Press.
Porter, L. W. & McKibbin, L. E. (1988). Management education and development: Drift or thrust into the 21st Century. New York, McGraw-Hill.
Steiner, I. D. (1972). Group process and productivity. New York: Academic Press.